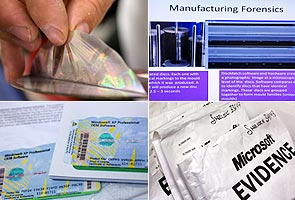 New York:  As the sun rose over the mountains circling Los Reyes, a town in the Mexican state of Michoacán, one morning in March 2009, a caravan of more than 300 heavily armed law enforcement agents set out on a raid.

All but the lead vehicle turned off their headlights to evade lookouts, called "falcons," who work for La Familia Michoacana, the brutal Mexican cartel that controls the drug trade. This time, the police weren't hunting for a secret stash of drugs, guns or money. Instead, they looked to crack down on La Familia's growing counterfeit software ring.

The police reached the house undetected, barreled in and found rooms crammed with about 50 machines used to copy CDs and make counterfeit versions of software like Microsoft Office and Xbox video games. They arrested three men on the spot, who were later released while the authorities investigate the case. "The entire operation was very complicated and risky," says a person close to the investigation, who demanded anonymity out of fear for his life.
 
The raid added to a body of evidence confirming La Familia's expansion into counterfeit software as a low-risk, high-profit complement to drugs, bribery and kidnapping. The group even stamps the disks it produces with "FMM," which stands for Familia Morelia Michoacana, right alongside the original brand of various software makers.  

The cartel distributes the software through thousands of kiosks, markets and stores in the region and demands that sales workers meet weekly quotas, this person says, describing the operation as a "form of extortion" on locals.
 
The arrival of organized criminal syndicates to the software piracy scene has escalated worries at companies like Microsoft, Symantec and Adobe. Groups in China, South America and Eastern Europe appear to have supply chains and sales networks rivaling those of legitimate businesses, says David Finn, Microsoft's anti-piracy chief. Sometimes they sell exact copies of products, but often peddle tainted software that opens the door to other electronic crime.

"As long as intellectual property is the lifeblood of this company, we have to go protect it," Mr Finn says.
 
Microsoft has adopted a hard-line stance against counterfeiting. It has set up a sophisticated anti-piracy operation that dwarfs those of other software makers; the staff includes dozens of former government intelligence agents from the United States, Europe and Asia, who use a host of "CSI"-like forensic technology tools for finding and convicting criminals.

But the hunt for pirates carries with it a cost to Microsoft's reputation.