On June 30, 2009, I wrote a post entitled "Chinese Typewriter". It's time now to do an update, because on March 9, 2011, I travelled to the University of Kansas to deliver the Wallace Johnson Memorial Lecture. So what do Wallace Johnson and the University of Kansas have to do with Chinese typewriters? It's simply that Wallace Johnson is the only Westerner I know who became proficient in the use of the kind of Chinese typewriter I wrote about in my 2009 post, and he happened to teach Chinese history at the University of Kansas from 1965 to 2007. I knew Wally Johnson because of his interest in Tang period law and because he received his Ph.D. from the University of Pennsylvania under Derk Bodde, who was a good friend of mine.
When I went to Lawrence, Kansas last month to deliver a lecture in memory of Wally, aside from various scholarly and collegial activities, I was privileged to see the original rules for basketball written by Dr. James Naismith, which had recently been purchased for $4.3 million on behalf of the University by an alumnus, and I was greatly honored to see Wally Johnson's Chinese typewriter. The typewriter is kept in the office of Vickie Fu Doll, Chinese and Korean Studies Librarian in the East Asian Library of the University. When I arrived at her office, Vickie had brought out the typewriter and its many parts. She had them all laid out on a large library table. Let me tell you: I was in Chinese typewriter heaven!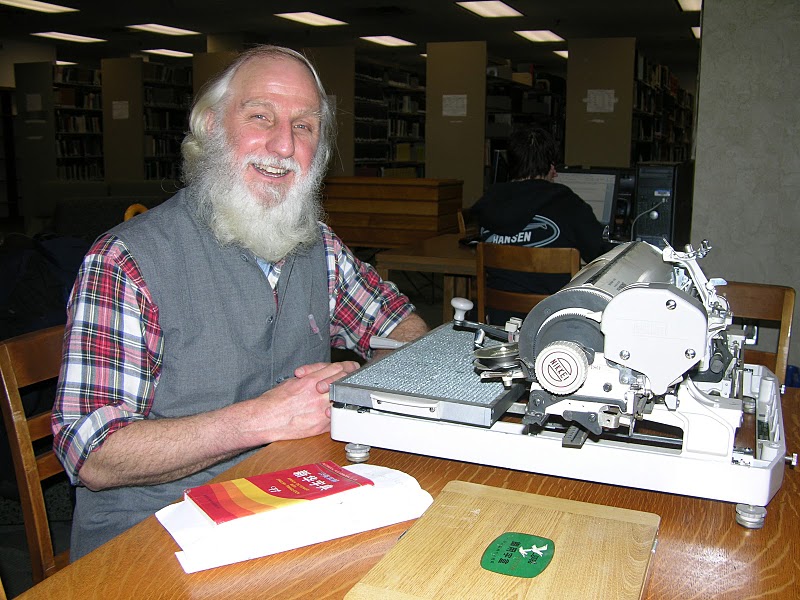 (You can see more pictures of me playing with Wally's fabulous toy here.)
Vickie told me that I was the first person to type with Wally's typewriter since 1982 and added, "I don't expect any others to use it very soon."
As you can see, the typewriter is extremely complicated and cumbersome. The main tray — which is like a typesetter's font of lead type — has about two thousand of the most frequent characters. Two thousand characters are not nearly enough for literary and scholarly purposes, so there are also a number of supplementary trays from which less frequent characters may be retrieved when necessary. What is even more intimidating about a Chinese typewriter is that the characters as seen by the typist are backwards and upside down! Add to this challenging orientation the fact that the pieces of type are tiny and all of a single metallic shade, it becomes a maddening task to find the right character. But that is not all, since there is also the problem of the principle (or lack thereof) upon which the characters are ordered in the tray. By radical? By total stroke count? Both of these methods would result in numerous characters under the same heading. By rough frequency? By telegraph code? Unfortunately, nobody seems to have thought to use the easiest and most user-friendly method of arranging the characters according to their pronunciation.
For all of the above reasons, using a Chinese typewriter was (and still is!) an excruciating experience. To give Language Log readers almost palpably visual evidence of what it is like to type with a Chinese typewriter, I here present a precious photograph of Wally working at his typewriter:
To view more photos and watch videos, go to Language Log