Dog is still on the menu in south China, but dog ownership has exploded with Shenzhen's fortunes, as seen by its pet stores
Shenzhen, China (CNN) -- When Shenzhen housewife Zhang Lin was growing up in rural Guangdong province, her family kept guard dogs, some of which were slaughtered for meat during the Lunar New Year.
Now she is the owner of Dou-dou, a high-energy miniature poodle she bought for 4,000 yuan ($626), more than triple this southern Chinese city's monthly minimum wage. She never eats dog meat and treats Dou-dou like her child.
"Growing up, we always had dogs around, but their purpose was [for] meat and guarding the house," Zhang said. "Dou-dou is my companion."
Zhang regularly takes Dou-dou to King Glory Plaza, a large public square dominated by an upscale shopping mall, where the Shenzhen middle class come out to play. At night, the square is filled with children whizzing by on roller-skates and couples relaxing on benches, as well as with China's newest beneficiaries of economic growth: dogs. Poodles, huskies, Labradors run off leash, tails wagging and tongues flailing, as their owners share health and grooming tips. Despite Shenzhen's tiny apartments, most of the dogs at the square are large breeds.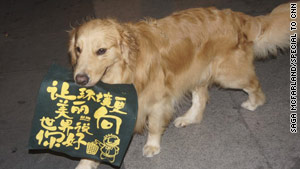 Shunliu demonstrates his fetch ability in Shenzhen, China.
"People with a high income tend to have poodles and bichons," said Dr. Chen Yan, a government veterinarian in Shenzhen. "Ordinary people tend to have Papillons, Pomeranians or mixed breeds.
"People who keep dogs to show off have expensive breeds like Tibetan mastiffs which cost at least 50,000 yuan (about $7,800). Quality people who really love dogs don't care about the breed."
Read moe at CNN