We'd better get used to it; pinyin romanizations will be showing up in English with increasing regularity. For example, someone who catches a glimpse of this sign may think that it has something to do with writing instruments: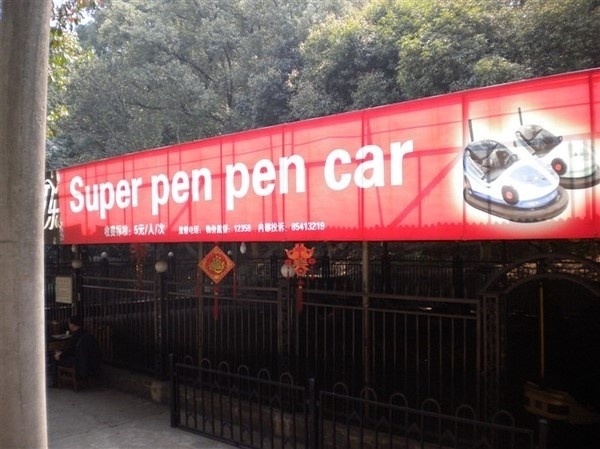 The photograph, however, shows two bumper cars. What then, is this mysterious "Super pen pen car" that the sign is advertising? In fact, "pen pen" is incorrect pinyin for pèngpèng 碰碰 ("bump"), and a pèngpèngchē 碰碰车 is a "bumper car" ride that you can often find in Chinese amusement parks.
Many pinyin-English faux amis are humorous. For example, there's a girl named You Shiting 尤诗婷. When she came to America to study, her name was given in the usual Western order as Shiting You, which led to much merriment.
When I first went to China in 1981, I was tricked by some naughty girls who kept asking me how to pronounce fuxing 復興 ("rebirth, renaissance, resurgence") and what it meant in English. A major hotel in Beijing had to change its name from Fuxing Hotel to Beijing Hotel because tourists were reluctant to stay in it when it had the former appellation.
Some pinyin-English faux amis can be politically or ideologically inconvenient. As I wrote in the first chapter of The Columbia History of Chinese Literature (p. 54):
Some writers have begun to play with pinyin mixed in among Chinese characters. A notorious example was the 1980s spoken drama "Women" (Us), which had its title written only in pinyin "Women") and used pinyin for the first-person plural pronoun women ("we, us") throughout in some versions of the script. It is difficult to determine precisely what the authors (a collective from a military unit, no less!) meant by this usage (perhaps a subtle pun on the English word written with the same letters? — a so-called faux ami), but the government was sufficiently incensed to ban the play before it actually opened.
Other pinyin-English faux amis and related phenomena are discussed in "Flirtatious Evacuation", "YouCool", and "Transletteration".
[A tip of the hat to Jiang Ranting]
January 16, 2012 @ 3:07 pm · Filed by Victor Mair under Lost in translation