BEIJING, China, August 7, 2012 (ENS) – China is facing its third typhoon in a single week, as Haikui strengthened from a tropical storm on Sunday into a typhoon on Monday afternoon.
"Within seven days our nation may be hit successively by three typhoons, the first time such circumstances have arisen since records have been taken," Minister of Water Resources Chen Lei said in a statement.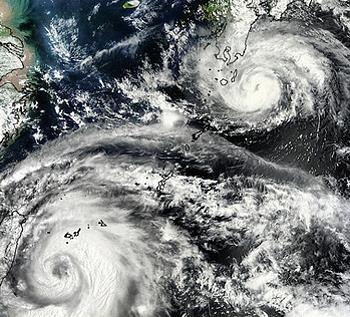 Typhoons Damrey and Saola head for China's east coast as seen by a NASA's MODIS satellite, August 1, 2012 (Photo courtesy NASA)
"We are still dealing with the impact of Typhoons Saola and Damrey and now Typhoon Haikui is heading towards us," he said.
At least 14 people are confirmed dead and five others are missing after typhoons Damrey and Saola blasted across China's eastern coast over the weekend, authorities said Monday.
Now Typhoon Haikui is approaching East China's Zhejiang province, heading for a stretch of coastline just south of the 23 million people living in Shanghai, the world's largest city.
On Tuesday morning the center of Typhoon Haikui was located in the East China Sea, about 330 kilometers southeast of Shanghai.
Haikui is forecast to move west by north to northwest at a speed of 10-15 kilometers per hour, gaining intensity, and make landfall in the low-lying coastal area between Zhoushan and Yuhuan on Tuesday night or Wednesday morning, according to the China Meteorological Administration, CMA.
Environment News Service
(
http://s.tt/1krzc
)