The US accused China of militarizing the region, when Washington is the one doing the militarizing
by John Glaser, August 16, 2012
Recent US statements criticizing China for militarizing the South China Sea area have been bitterly rejected by Chinese authorities, who view Washington as doing the militarizing and trying to provoke China.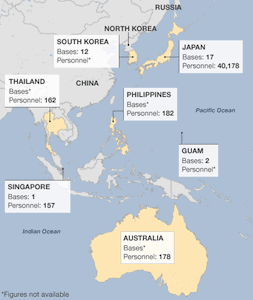 Source: BBC
Tensions between various Asian countries have been on the rise over territorial disputes and Washington keeps sticking its nose in where it doesn't belong in an attempt to undercut its global competitor, China.
"Judging from the outrage coming from China at being singled out, after Vietnam and the Philippines had taken steps, without being criticized, to secure resources in the contested sea before China's own actions, the US statement seems to be backfiring," Douglas H. Paal of the Carnegie Endowment for International Peace.
Read More Antiwar