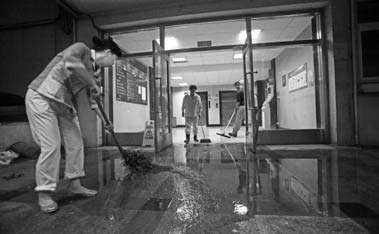 Workers clean a building at Shanghai's Baogang Hospital on Friday after an operation room inside caught fire on Wednesday, killing a patient who was undergoing an amputation surgery. Provided to China Daily
SHANGHAI - Six medical staff members who fled during a fire, leaving a patient who was undergoing surgery to suffocate in thick smoke, have been suspended and placed under investigation, the hospital said.
On Wednesday, a fire broke out around 9:45 pm in an operating room at Baogang Hospital in Shanghai, where a 49-year-old patient surnamed Zhu was undergoing an amputation surgery after a traffic accident. Two doctors, two anaesthesiologists and two nurses fled. The patient was under general anesthesia and suffocated.
The hospital said it would be dangerous to move the patient, who had just undergone the amputation and was still bleeding profusely. Moreover, the fire had caused a power outage that disabled the electric lock on the operating table.
Fang Yong, president of Baogang Hospital, said the fire started with an ozone sterilizer in one of the operating rooms.
"Power supplies were cut off, and an emergency system was turned on to keep the patient's breathing machine running," said Fang. He said when the power cut off, the breathing machine could remain working for only 30 minutes.
"Under the circumstances, the doctors decided not to transfer the patient, but to leave and find firefighters to rescue the patient," he said.
Fang conceded that the medical workers misjudged the severity of the fire. He said firefighters arrived about five minutes after the fire began and took 30 minutes to extinguish the flames.
Zhu's nephew, surnamed Jin, said he entered the hospital after the fire was extinguished. "Firefighters were cleaning up the scene and I saw my uncle's body on the ground, covered with a white cloth."
Read more at ChinaDaily.com